Car Shipping to Australia
How to ship your car to Australia with EuroTrans Cargo
Regular Car Shipping by Container and RoRo from the UK to Australia
EuroTrans Cargo offer car shipping to Australia by Roll on Roll off (Ro Ro) direct from the ports of Southampton and Sheerness and regular container shipments from Southampton to Melbourne, Sydney Adelaide and Brisbane. We have been shipping cars to Australia for our private clients for over 20 years and our team of dedicated move managers have a wealth of experience in all aspects of car shipping. When shipping cars to Australia we offer two options depending on budget and vehicle requirements.
R-Rak (Container) Car Shipping to Australia
By utilizing the revolutionary R-Rak container car shipping system we can load 4 cars, safely and securely, into 1 x 40ft container. This gives us considerable savings over the traditional method of building car racks with wood, and is a little friendlier to the environment. This system of shipping cars has now been adopted by some of the world's largest car manufacturers including BMW, Honda, Mercedes Benz, Volkswagen, Lotus, Volvo and Ford.
Now proven to be the safest system for shipping cars overseas, the R-Rak system allows us to ship on a regular basis, direct to all main Australian ports with considerable savings to our clients and with the added benefit of more frequent sailings and faster transit times.
Please note that you may load personal effects, spare tires, tools or other belongings inside the vehicle when using the R-Rak method. This option is not available for our Roll-on Roll-off services.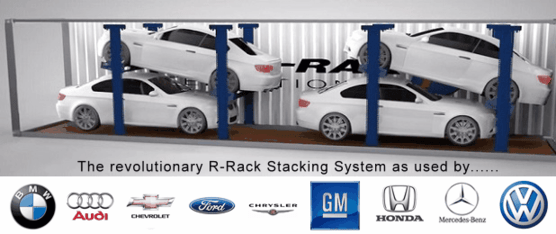 ---
Roll-on Roll-off (RoRo) Car Shipping to Australia
Your vehicle can be collected anywhere in the UK or you can drive your car directly to the port. Cars are then driven directly into the car shipping deck of the vessels. The two main car shipping lines to Australia are Hoegh Autoliners and Wallenius Lines and between them we offer you car shipping from the UK to Australia every 7 to 10 days.
Ports & Transit Times
Our container services provide regular sailings to all main Australian ports including Fremantle, Adelaide, Melbourne, Sydney, Brisbane, Darwin and Newcastle in as little as 34 days. Our Roll on Roll off services provide sailings to all Ro Ro car shipping ports in Australia from the port of Southampton and Sheerness with transit times from as little as 30 days, however sailings from the UK are less frequent than our container shipping services.
Customs
As a registered customs broker we have direct access to the Government gateway to ensure that your car is shipped to Australia in accordance with current UK customs requirements to avoid delay in shipment. Through our agents in Australia we also provide comprehensive assistance in completion of customs formalities at your destination port.
How much does it cost to ship a car to Australia?
Below you can find a table of indicative costs for our RoRo and R-Rak car shipping services to Australia. Prices are 'port to port' shipping costs only, excluding duties and taxes, collection costs and redelivery (if required) on arrival.
Car shipping costs included in this table should be used as a guide only. Prices are current at the time of writing, however they may vary depending on the exact destination and vehicle dimensions. Please check with us prior to booking. To recieve an accurate quote specific to your vehicle type and destination, please fill out the quote form on this page.
UK to Australia Car Shipping Costs Guide

Type
Container Shipping
Roll-on-Roll-Off
Saloon Car
£743 – Melbourne
£1,043 – Melbourne
£743 – Sydney
£1,043 – Sydney
£743 – Fremantle
£1,043 – Fremantle
£743 – Brisbane
£1,043 – Brisbane
£743 – Adelaide
£1,123 – Adelaide
SUV / 4×4
£843 – Melbourne
£1,321 – Melbourne
£843 – Sydney
£1,321 – Sydney
£843 – Fremantle
£1,321 – Fremantle
£843 – Brisbane
£1,321 – Brisbane
£843 – Adelaide
£1,400 – Adelaide